Today's theme is for Horse at ESN. Well I happen to have a pair of steins or mugs with a horse on each one. They are of course vintage and made in Japan. Now I love horses but have not been on one since I fell off of one. My dear cousin asked me if I would like to ride on his gorgeous white horse and of course the small child that I was said yes with glee and laughter. Now he rode the horse bareback, so I sat on behind him holding on for dear life since it was my first time on a horse.
He took off and decided to pick up some speed and needless to say I was getting a little scared. He slowed down some and did it again and we took off like lightening, now I was really frightened and started to cry and he just keep going and I felt myself slipping from my hold on him and before you know there I was flat on my back screaming and crying. He finally realized I wasn't there and came back for me. I was sorely bruized but not broken.
Of course he called me a crybaby, made some fun and laughed. I hated him from that time on. Of course I don't hate him anymore but I did for a few years and never went to visit him and my aunt again for a long, long time. I still love horses but have not been on them since. Maybe someday!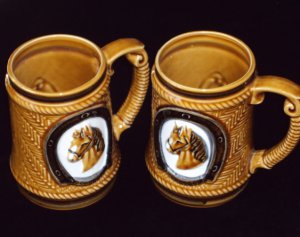 Do stop by my store
Katzzs Kloset
and see what else I have!